Fatherhood Foundation is a much needed initiative of Warwick & Alison Marsh and the board of Australian Heart Ministries. Warwick & Alison have been working in schools, jails, seminars, community centres, Aboriginal communities and churches across Australia, helping people and families. Together they established Australian Heart Ministries as a charitable, not for profit organization, 'to relieve the spiritual, emotional and physical poverty of children and their mothers and fathers, both in Australia and around the world'. Over the past twelve years they have seen fathers renewed, marriages healed and families restored. They have also been able to raise financial and practical support for Africa, Philippines, China and other third world countries. Giving to those who are disadvantaged is a core value of the Fatherhood Foundation.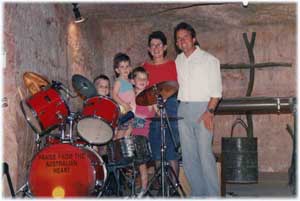 As Warwick & Alison Marsh have travelled across Australia, talking to average Australians, they have found much grief and heartache in the families of the nation.
Australia is facing difficult times: the divorce rate for marriages is approaching 50%, violent crime is increasing, there is a spiralling drug epidemic, the rape rate in Australia is the highest in the world, youth suicide in Australia is also the highest in the world, rampant pornography, abortion, child poverty, incest and a myriad of social problems that accompany these national ills. Australia's national birth rate is falling below it's ability to replace it's own population. This will trigger enormous economic problems over the next few decades.
| | |
| --- | --- |
| In 1998, Warwick & Alison were at Canberra's Federal Parliament, attending the National Prayer Breakfast where many of these problems were discussed and answers sought. After quite some time an older aboriginal man, Ps Ron Williams, stood and said, "What Australia needs more than anything else is fathers - both natural and spiritual!" Australia needs husbands who will love their wives, fathers who will love their children and provide leadership by a good example in the home. Fathers who will take responsibility for their reproductive organs. Fathers who will model positive fatherhood for the nation. Just as our heavenly Father loves each of us: black & white, good & bad. | |
Ps Ron William's word of wisdom had a deep impact on Warwick & Alison and since then they have begun to work towards establishing the Fatherhood Foundation as a viable way of inspiring and educating fathers to make a difference in the nation. Herbert Hoover said, "Children are our most valuable natural resource". Mike & the Mechanics in their hit song, 'In the Living Years' sing, "Every generation blames the one before. All of their frustrations come beating at the door". The Fatherhood Foundation aims to play a part in breaking the current generational cycle of mediocrity.
Warwick & Alison Marsh with fellow Fatherhood Foundation Board Members, Geoff Moses, Michael Baker and Philip Latz are determined to help the children of Australia by empowering Australian men to become better fathers thus fulfilling the Fatherhood Foundation goal. Inspiration and education will help fathers in Australia rise above mediocrity to a greater level of excellence to become the "best dads in the world". The simple goal of the Fatherhood Foundation is to change Australia for the better - one father at a time.